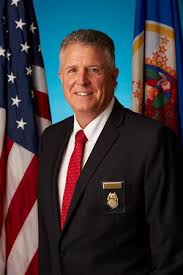 Sean Gormley, Executive Director, Law Enforcement Labor Services, Inc.| 10/27/16
Patrick, I would like to sincerely thank you and your staff for the great experience and help on my refinance. Heather and Stephanie were so nice to work with and always got back to me in a very timely manner, it was as though I was the only customer that they were working with. It truly was a very simple and painless process. Fidelity Blueline Mortgage is the company that they say they are and I recommend to all the members and family's of Law Enforcement Labor Services (LELS) to take advantage of your service and I know they will be happy! I look forward to our partnership for many years to come.
Zach Wood, Deputy Sheriff, Ramsey County MN Sheriff's Department| 04/24/2019
"Fidelity Blueline Mortgage did an outstanding job from start to finish, Patrick was pretty much available seven days a week and just about all hours of the day. I would highly recommend them as a mortgage company."
Dan Monnet, Sergeant Rochester MN Police Department, LELS Board of Directors| 09/20/2018
"Our decision to purchase a new construction home was a 'spur of the moment' decision and we hadn't been through the mortgage process in 20 years, which was a little intimidating. I knew other officers who used Fidelity Blueline Mortgage and they had great things to say. I called Patrick and, within the first minute of conversation, knew he had my back and was going to do everything he possibly could to get me the best rate but, moreover, provide the best customer service. He far exceeded my expectations. Patrick and the staff at Fidelity Blueline Mortgage are superstars! They will smoothly guide you through the entire mortgage process and lessen the stress we all have when it comes to money. Patrick is the epitome of what one would want in a mortgage lender. He is an honest, down to earth, genuine guy that always goes the extra mile for his clients. The communication was fantastic and Patrick was accessible 24/7 to answer any questions I had. Patrick and the staff understand law enforcement families and work around your schedule. If you want the best mortgage experience, look no further than Fidelity Blueline Mortgage!"
Jason Knutson, Blaine MN Police Department Retired| 05/01/2018
My wife and I were referred to Fidelity Blue Line Mortgage through a friend on the board of LELS. We did have a bank we were working with and had a good relationship with. It was suggested that we at least see what Patrick and Fidelity Blue Line could do. I got ahold of Patrick and provided him details of what we had going on with the build of our new house. Patrick was great to work with. He in no way pushed us to switch, he did not try to persuade us to change. He stayed late passed the end of his day to go over things with me. He worked around my schedule and did not worry about his. Patrick was honest and fair and stated I was in a good spot with the other lender and I was not getting a bad deal. Patrick did see potential for me to save a little more with him, but more so promised the service I would receive would be better than anywhere I would find. Wow did he deliver on both of those.
Saving money is great, but the service is what counts. If you are saving money but it's a terrible experience what is the point? Patrick told me right away that the service I would get would be better than if the bank was next door to my house. You could not say that any better than that. Patrick made himself available when my wife and I were available, he went out of his way and bent over backwards to provide us an exceptional experience. Not only did Patrick provide that level, but everyone else that worked our file did as well. Even though due to my injury I am no longer in the career I loved and have moved on to something different they still took care of my family. I cannot thank Patrick, Audra, Greg and Stephanie enough for the exceptional quality of service they provided.
Thank you so much, and I'm so glad I followed through with the recommendation I was given. If you need a mortgage lender, these guys at Fidelity are it (and) you do not know what you are missing!
Andy Miller, Sheriff Deputy, Traverse County Sheriff's Office| 05/01/2018
To Patrick and everyone at Fidelity Blue Line: I wanted to express my gratitude for the assistance you all provided in the purchase of our new home. Being a new home buyer, you did a wonderful job making the experience enjoyable. If we at any point had questions about the process, you were a phone call away. The services you provide, especially to our brothers in blue, is something to be commended. We have and will be continuing to recommend Fidelity Blue Line. Thank you again for everything you do!!!
Andy Miller & Janessa Guy
Jason Heilman, Detective, City of Maple Grove PD| 03/13/2017
Good afternoon Patrick, I wanted to pass along a true heartfelt thanks to you and your staff for completing a refinance for our family.  From the beginning of the process until we shook the final hand at closing, you and your team were professional, helpful and caring!  We felt up to speed with each item in the process and always aware of what was occurring behind the scenes.  From Mat Hodapp to Audra Lyons to Stephanie Whidby to you sir, we have received clear, concise, honest information throughout the process.  I have been a police officer for nearly 15 years and only wish that I would've known about Blueline sooner!  It's been a blessing, thanks Patrick!  Best Regards, The Heilman Family
Douglas H. Biehn, Business Agent, Law Enforcement Labor Services| 09/16/16
Sean, I wanted to let you and the LELS Board know that my son Timothy and I recently availed ourselves of the service provided by Fidelity Blueline Mortgage for the purchase of a home in Hugo. Patrick Bautz and his team were fantastic to work with. They were always fast to respond to inquiries and pleasant beyond mention! Patrick was answering his emails at all hours of the day and returning phone calls while he was on vacation. Well beyond my expectations. As you may know, I am a stickler for detail and Patrick unhesitatingly answered all my inquiries to my satisfaction. I will enthusiastically give Fidelity Blueline a thumbs up to our members.
Thank You, and please pass my comments on to the LELS Board. Doug