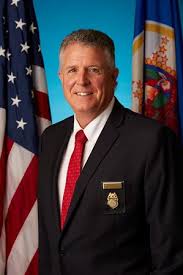 Sean Gormley, Executive Director, Law Enforcement Labor Services, Inc.| 10/27/16
Patrick, I would like to sincerely thank you and your staff for the great experience and help on my refinance. Heather and Stephanie were so nice to work with and always got back to me in a very timely manner, it was as though I was the only customer that they were working with. It truly was a very simple and painless process. Fidelity Blueline Mortgage is the company that they say they are and I recommend to all the members and family's of Law Enforcement Labor Services (LELS) to take advantage of your service and I know they will be happy! I look forward to our partnership for many years to come.
Jason Heilman, Detective, City of Maple Grove PD| 03/13/2017
Good afternoon Patrick, I wanted to pass along a true heartfelt thanks to you and your staff for completing a refinance for our family.  From the beginning of the process until we shook the final hand at closing, you and your team were professional, helpful and caring!  We felt up to speed with each item in the process and always aware of what was occurring behind the scenes.  From Mat Hodapp to Audra Lyons to Stephanie Whidby to you sir, we have received clear, concise, honest information throughout the process.  I have been a police officer for nearly 15 years and only wish that I would've known about Blueline sooner!  It's been a blessing, thanks Patrick!  Best Regards, The Heilman Family
Douglas H. Biehn, Business Agent, Law Enforcement Labor Services| 09/16/16
Sean, I wanted to let you and the LELS Board know that my son Timothy and I recently availed ourselves of the service provided by Fidelity Blueline Mortgage for the purchase of a home in Hugo. Patrick Bautz and his team were fantastic to work with. They were always fast to respond to inquiries and pleasant beyond mention! Patrick was answering his emails at all hours of the day and returning phone calls while he was on vacation. Well beyond my expectations. As you may know, I am a stickler for detail and Patrick unhesitatingly answered all my inquiries to my satisfaction. I will enthusiastically give Fidelity Blueline a thumbs up to our members.
Thank You, and please pass my comments on to the LELS Board. Doug